B

log
Fashion – Style – Trends
How to Sell Clothes at Buffalo Exchange in Just 2 Easy Steps

By Jessica Pruitt, Buffalo Exchange HQ
We know it can sometimes seem intimidating to sell clothes at your local resale store – it's enough work just to clean out your closet, let alone figure out which items will sell and which won't. Well, leave that part up to us! All you need to do is bring your clothes (we buy all day, every day) into your local Buffalo Exchange and get paid. Even better, take the trade and shop for new-to-you finds!
Step 1: Bring In Your Items
To sell clothes at Buffalo Exchange, the process is super easy. Simply clean out your closet and bring your closet cleanout in to sell the clothes you're no longer wearing. We buy men's and women's clothing, shoes and accessories, the best of all seasons, year-round. Style and good condition are more important than brand, so bring in your whole cleanout, from designer to name brand to no-brand.
Make sure to bring along a government-issued ID like a Driver's License or Passport (and an adult if you're under 18).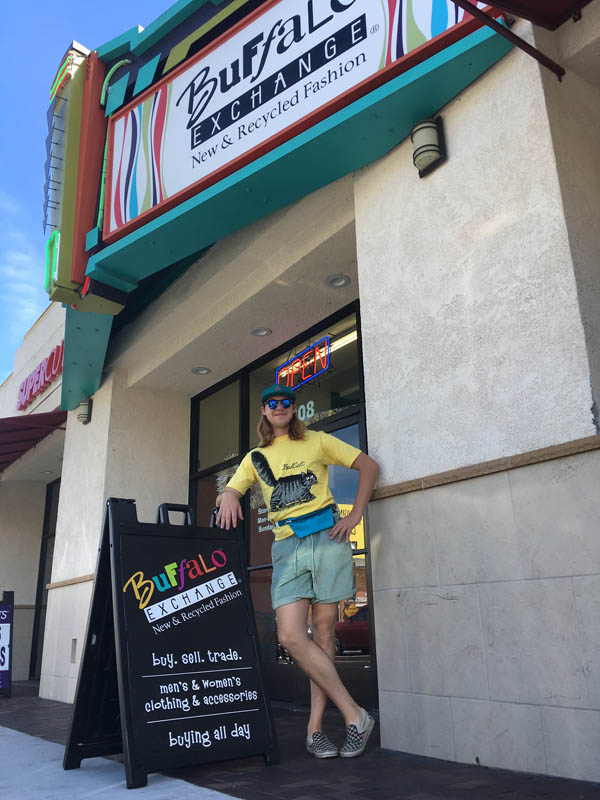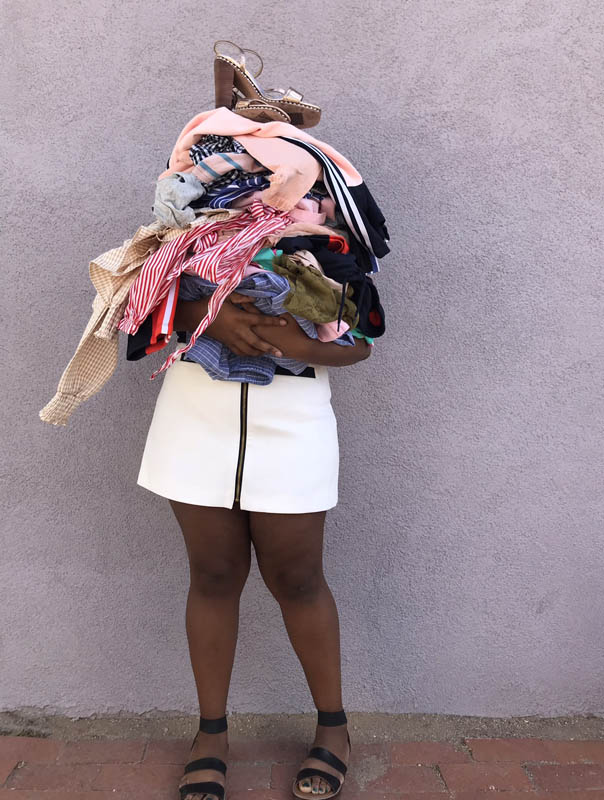 Step 2: Get Paid in Cash or Trade
When you get to the store, we recommend hanging out with your Buyer as they take a look through your cleanout. For each item we're able to take, your Buyer will let you know our selling price. From that, you'll get 25% in cash or 50% in store trade. If you decide you'd rather hold onto an item, no problem – just let your Buyer know! We do need to see items in person in order to say whether or not we can buy them and offer you a selling price, so we always recommend stopping into the store with any items you'd like to sell.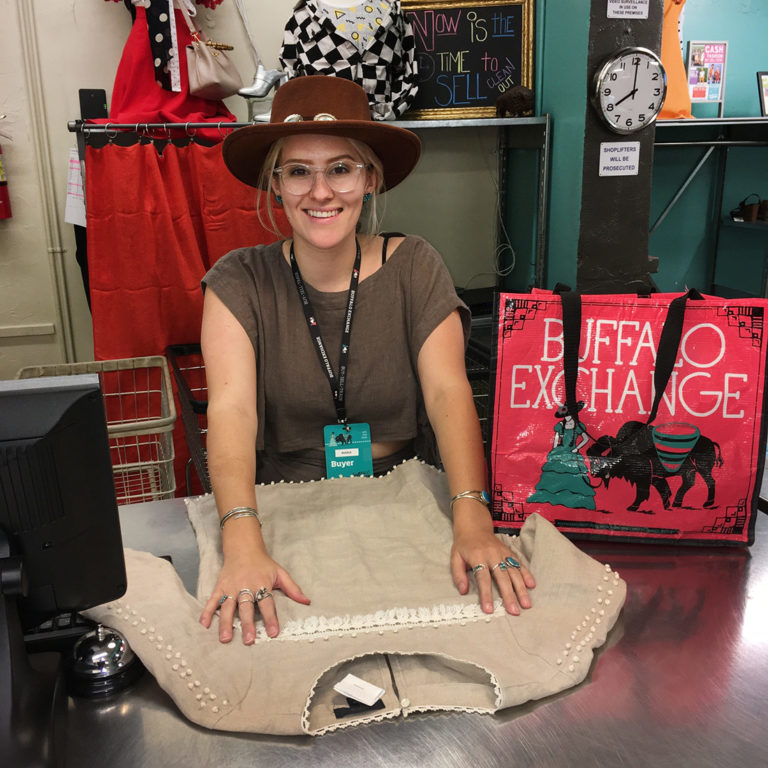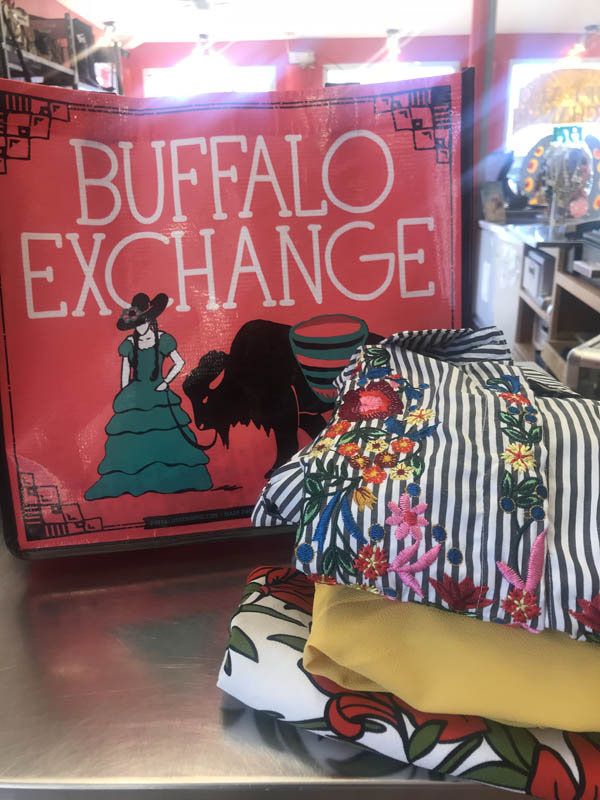 Trade Up: After You Sell Clothes, Go Shopping
We're going to let you in on a little secret: trade is the way to go! Even if you're trying to cut down on clutter overall, trading your cleanout in for a few new-to-you finds is a great (and often free!) way to make your closet feel brand new again. Not to mention that it's environmentally friendly. Pro Tip: When it comes to cash and trade, you have options. You can buy a few pieces and take your remaining value in cash or even take a trade card for later. Just head to the register before you leave to pick up your cash, trade or any combination of the two!
How Does the Selection Process Work?
At Buffalo Exchange, our Buyers go through a lengthy training process to learn about clothing construction and brands, price points and what kinds of items sell well in the store. After that, they analyze our racks daily to see which items have been selling quickly and which ones have been sticking around.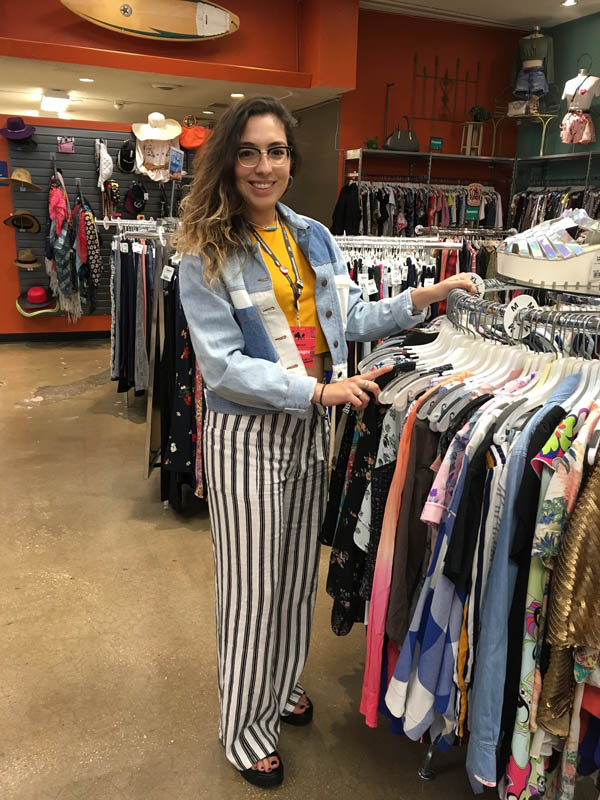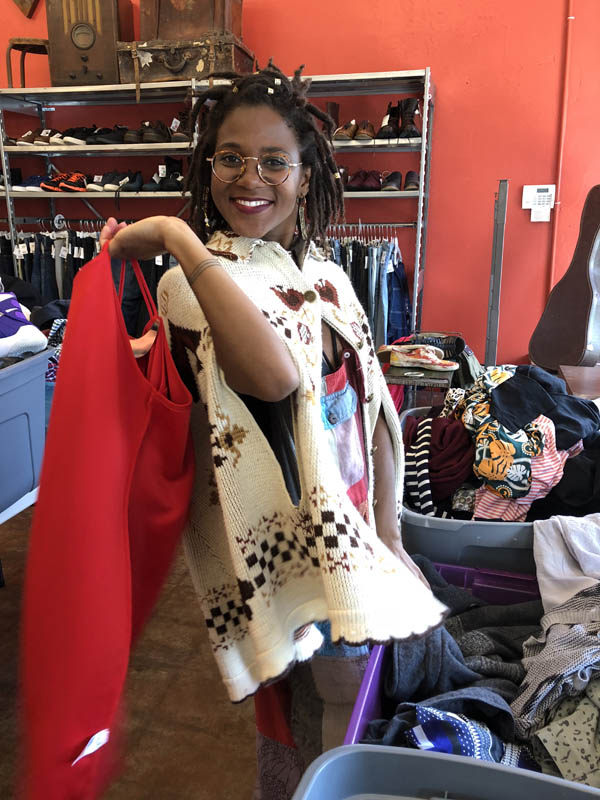 Our Buyers also talk to customers to find out what styles they'd like to see more of. It's our goal to offer something for everyone – that's why we buy current trends, vintage, one-of-a-kind items, inclusive sizing, everyday staples, men's fashion and more. When our Buyers aren't helping customers or reviewing our inventory, they're often doing research on brands and current trends. As a result, our staff is a wealth of fashion knowledge! Ever wondered why they're buying certain items from your pile and passing on others? Just ask! We love to talk fashion.
Whether you're patting yourself on the back for a closet cleanout well done or you're still in the "I'm so dreading this" phase, we've got you covered. When you're ready, you can sell clothes, shoes and accessories at Buffalo Exchange in just a couple simple steps.