A pioneer in the resale fashion industry, Buffalo Exchange has been buying, selling and trading clothing & accessories since 1974. We offer customers 25% in cash or 50% in trade on-the-spot for current trends, designer, everyday styles, vintage and one-of-a-kind fashion finds. Buffalo Exchange has over 40 stores – and growing all the time.
In 1974, when Kerstin Block first had the idea for a different sort of secondhand shop, she never expected it to grow into what it is today – she just followed her love of thrift store shopping.
"I came upon the idea that there must be other people who are equally addicted to this kind of shopping, but who didn't want to sort through as much stuff."
Enter a whole new business model – a resale shop where customers could buy hand-picked secondhand treasures in one place and also sell their clothes for cash or trade on-the-spot.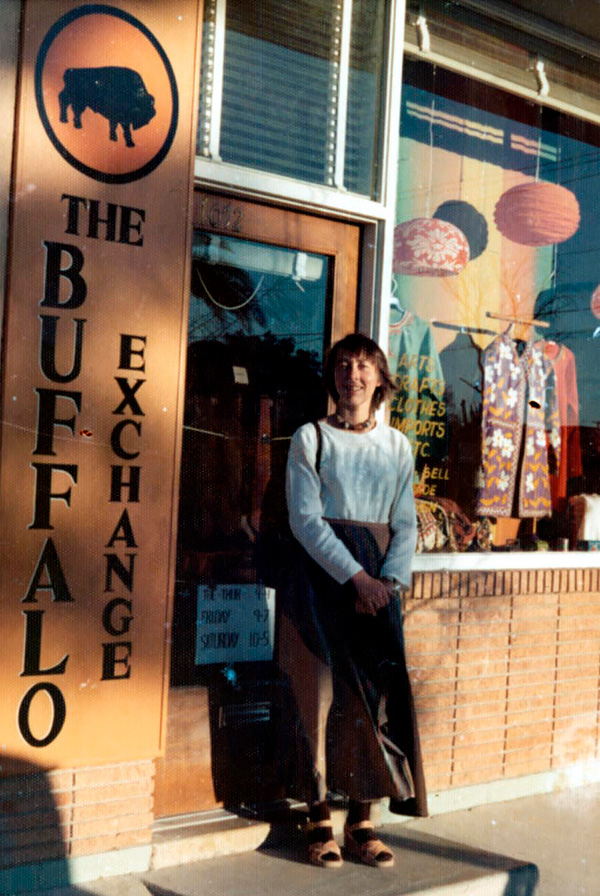 Image: Kerstin Block in Tucson, c. 1974
The 1st Buffalo Exchange
Kerstin and her husband, Spencer, rented out a small 450 square foot spot in Tucson, AZ and filled the store with pieces from Kerstin's own closet. Soon enough, they had a bustling business buying, selling and trading the likes of denim skirts handmade by Kerstin, Hawaiian shirts and Kork-Ease sandals for an average price of $3.50.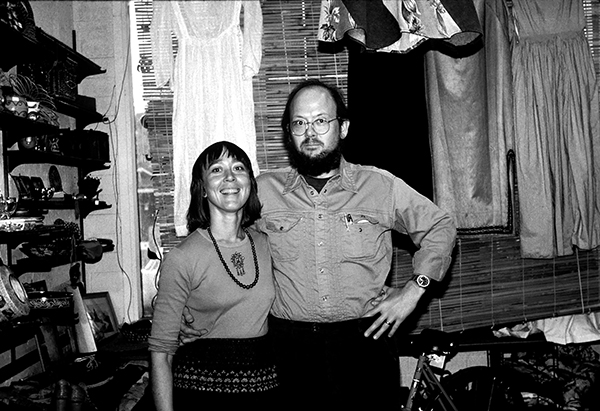 Image: Founders Kerstin and Spencer Block, c. 1977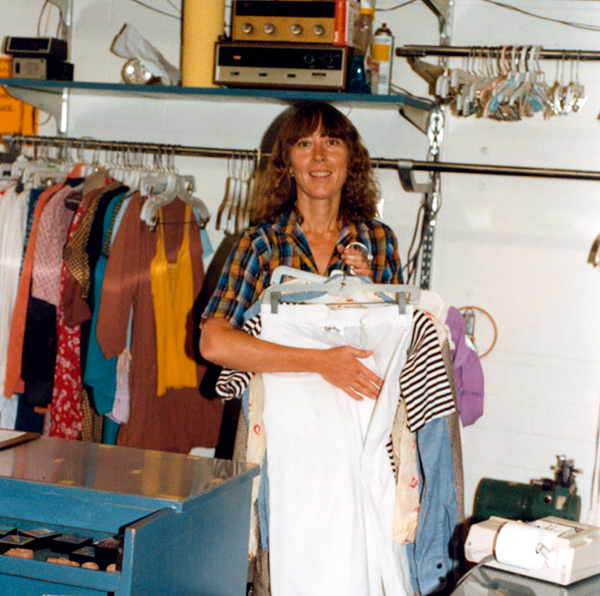 Image: Kerstin Block taking clothing out to the sales floor.
Originally from Sweden…
Kerstin chose "Buffalo" because she liked the way it evoked the American West. Spencer contributed the "Exchange" half of the name since that's precisely what they would be doing. And just like that, they ran the business together. Kerstin was the face of the store, running the register and doing all the buying. Spencer worked behind the scenes, creating clothing racks out of water pipes and handling the accounting. Resale wasn't very popular at the time, but they knew there would always be people who wanted to find great clothing and accessories for a good deal. They handpicked each item based on what their customers were interested in buying and displayed them in a fun, easy-to-shop space.
Charting New Territory
Kerstin and Spencer didn't know much about business, but they weren't afraid to venture into uncharted territory. Par for the course for Kerstin, who struck out on her own at the age of 18, taking a boat over from Sweden to study at the University of Arizona. What they initially lacked in business knowledge, they made up for in strong values.
"We built our business on a lot of principles," she says, "such as respecting people and treating everybody fairly and listening to people. Those are our tenets in business."
As they opened more locations – first a store in Tempe, AZ, then another store in Tucson – those tenets only grew. They knew how important it was to be honest and to value people – both employees and customers alike. After all, they relied on their customers to bring in clothing and they relied on their employees to build a diverse inventory.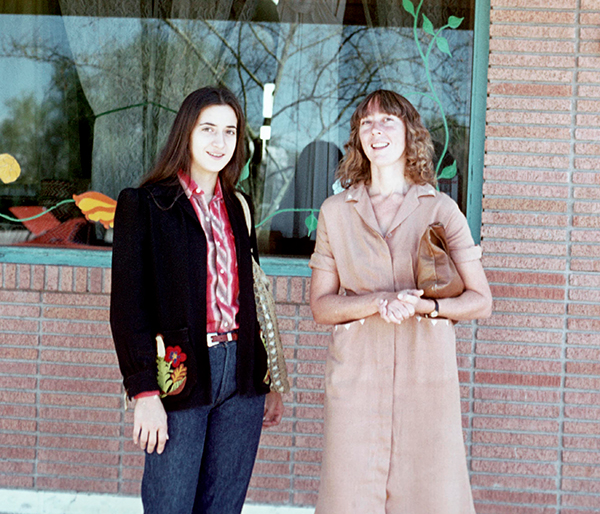 Image: COO Vella Austin and Kerstin Block, c. 1979
The Rise of Secondhand
In the 1980s, Kerstin and Spencer started setting their sights further afield and opened up a few locations in the San Francisco area. In the 1990s, as the popularity of secondhand shopping grew, so did Buffalo Exchange. From 1990-1999, the husband-wife duo opened up 19 new locations across California, the Southwest and the Northwest, learning a lot about business along the way.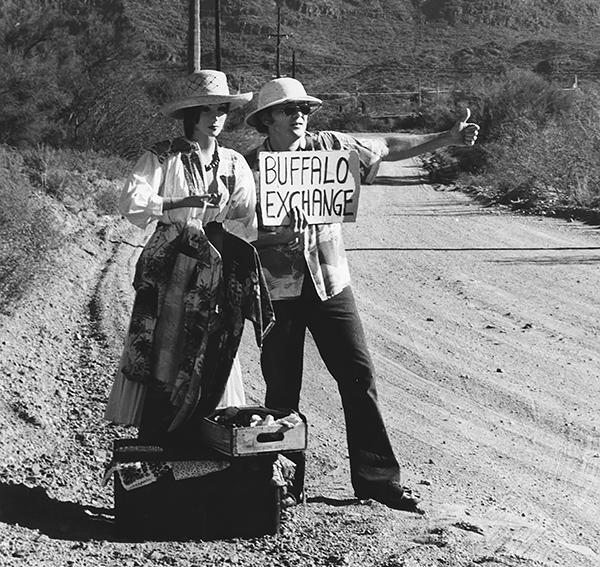 Image: Spencer Block "hitchhiking"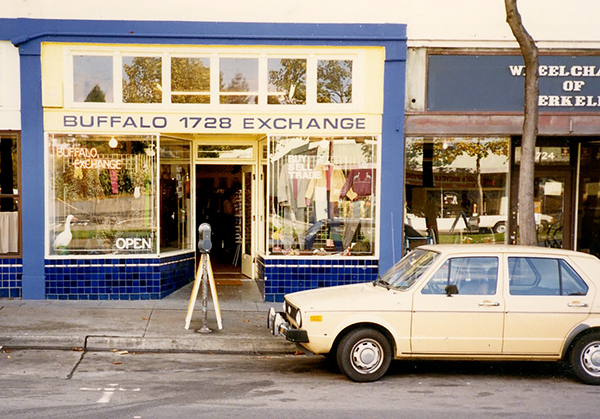 Image: Buffalo Exchange Berkeley, c. 1982
Sustainable Style
Since then, Buffalo Exchange has only continued to grow and lead the way in sustainable style, offering customers across the US the option to recycle their clothing and accessories for cash or store trade on-the-spot. Though Spencer passed away in 2009, Buffalo Exchange is still owned and operated out of Tucson, AZ by Kerstin and her daughter, Vice President Rebecca Block. Kerstin still oversees the daily operations of the business.
"What I'm most proud of is how much we've been able to empower people – especially women. That and the clothes. It's always been about the clothes." — Kerstin Block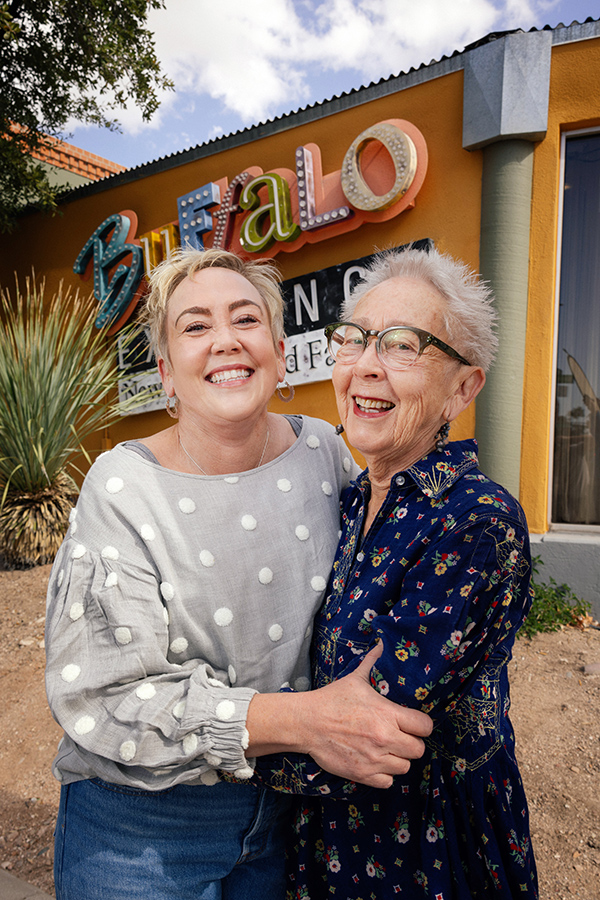 Image: Mother-daughter duo Kerstin and Rebecca Block. Photo by Agaton Strom.