B

log
Fashion – Style – Trends
Dinner is Served: Fresh Thanksgiving Outfits for Every Potluck

By Aarian, Buffalo Exchange HQ
Hello, Buffaloes! If you read my blog about how much I love plaid, you know that one of my favorite holidays is fast approaching: Thanksgiving! As a verified overthinker and certified procrastinator, I understand that coming up with a look for Halloween may have sent you into a tizzy and now you're stressin' about what to wear over the week of family reunions and friendsgivings ahead – fret not, because I am here to help. Naturally, as any secondhand fashionista would, I shopped at my neighborhood Buffalo Exchange and came up with five different Thanksgiving outfits that will work for almost any occasion. Couch surfing at your family's home? Covered. Friendsgiving chic? Got it. Meeting you significant other's 'rents? Nailed it! Read ahead for tips and tricks to copy this Thanksgiving – it's easy as pie!
Game On! Thanksgiving Outfits Made for Comfort
There's nothing quite like going home for the holidays. If you're staying with the 'rents during the long weekend, it's definitely tempting to traipse down the hall in the sweatpants you slept in for Thanksgiving dinner (no judgement – we've all been there). To combat the alluring draw of comfort-over-all, pair a velvet T-shirt dress with your favorite pair of sneakers and a fuzzy cardigan, topping off the look with a matching beret. With this outfit, you'll look put-together for your family photos with all the comfort of being wrapped up burrito-style in bed.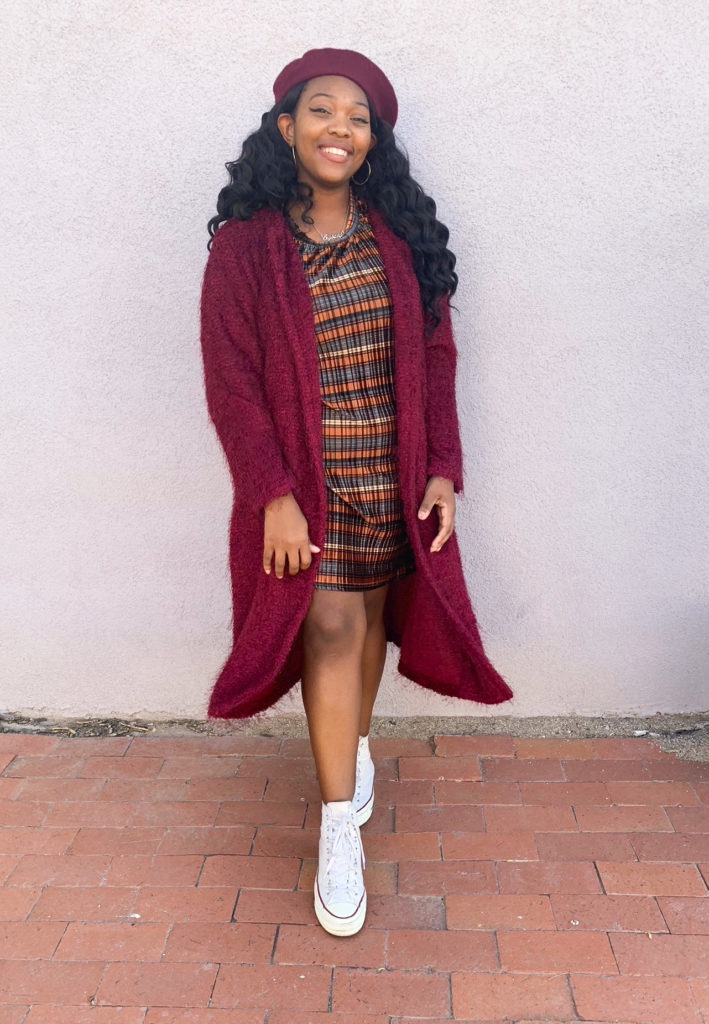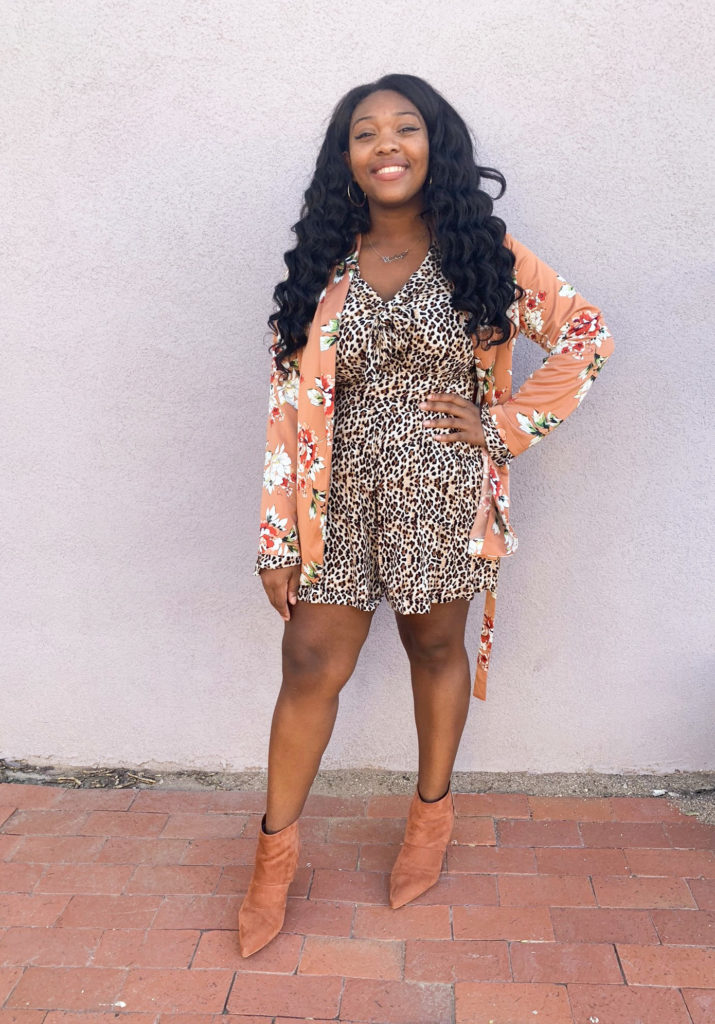 Let's Leo-party!
If you're like me, you're the dramatic friend. You know, the one who visits once a year to regale everyone with tales of what it's like to live in a moderately larger city with two large bags of luggage in tow (def more stuff than necessary for a four-day trip). For my fellow drama queens, this look is for you! After feasting with your family, fight the urge to take a nap and catch up with the hometown folks you didn't see at dinner in an attention-grabbing leopard print romper and floral blazer! The pattern mixing works because of the neutral color palette and the leopard print totally hides the mashed potatoes you dribbled on yourself earlier. WIN-WIN!
Gather Around for Gathered Sleeves
Let's be real: Thanksgiving dinner is really Thanksgiving lunch. If you're one of the few people that can hold out until a proper dinner time, let's say 6 o'clock, then 1) I commend you and 2) This evening look is for you. Here, I layered a faux-corset that has contrast stitching over a hunter green T-shirt with gathered sleeves. I don't know about you, but I'm still loving sleeve details with various ties, puffs and cuffs. A plaid accordion-pleat polishes off the look but leaves plenty of room for late-night seconds (or thirds). Definitely one of my favorite Thanksgiving outfits!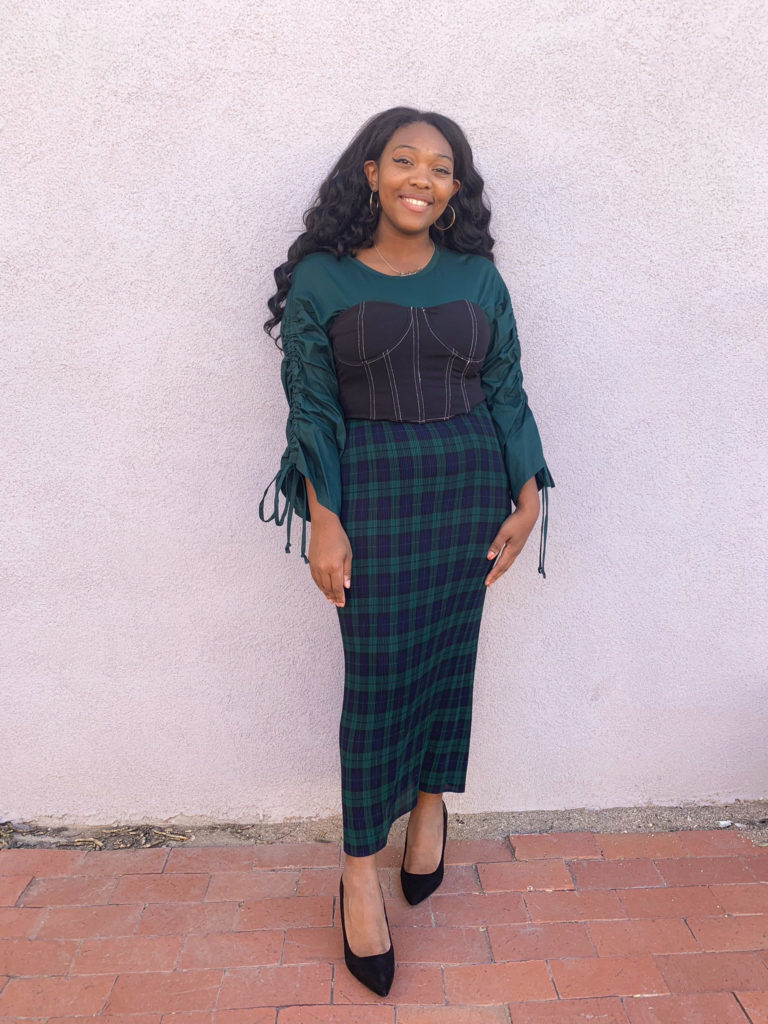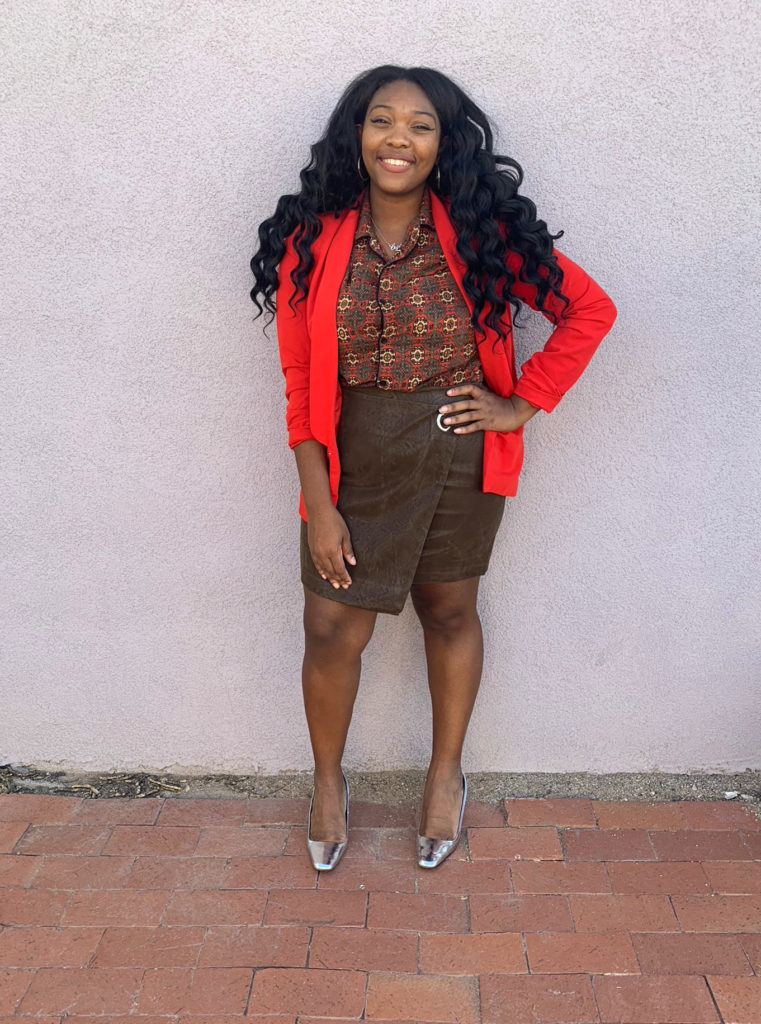 Hot Turkey Tamale
If you're looking for one of those Thanksgiving outfits that'll show your fellow dinner guests (many of whom you see just a few times a year) you've got it all figured out and WEREN'T totally thinking about sweatpants to dinner, a blazer and skirt combo is the way to go. Brown suede compliments the cheery holiday red top and the silver grommet fastening draws attention to your square-toed silver block heels. Who looks like they read the New York Times instead of just scrolling through Twitter? You do, girl!
Meet the Parents: Holiday Edition
Cuffing season is here! You made it through a summer of singledom, met someone special and now it's time to meet their parents. As far as Thanksgiving outfits go, you'll probably want to air on the side of caution and go with something classic (read: not a sequin jumpsuit). Make a great first impression in a vintage-inspired paisley dress with flutter sleeves and simple pumps. Compliment the high collar with your favorite good-luck charm necklace and top it off with a camel-colored beret. Whip up a side dish (or pick up a premade one – no judgement!) and you'll be the best guest ever!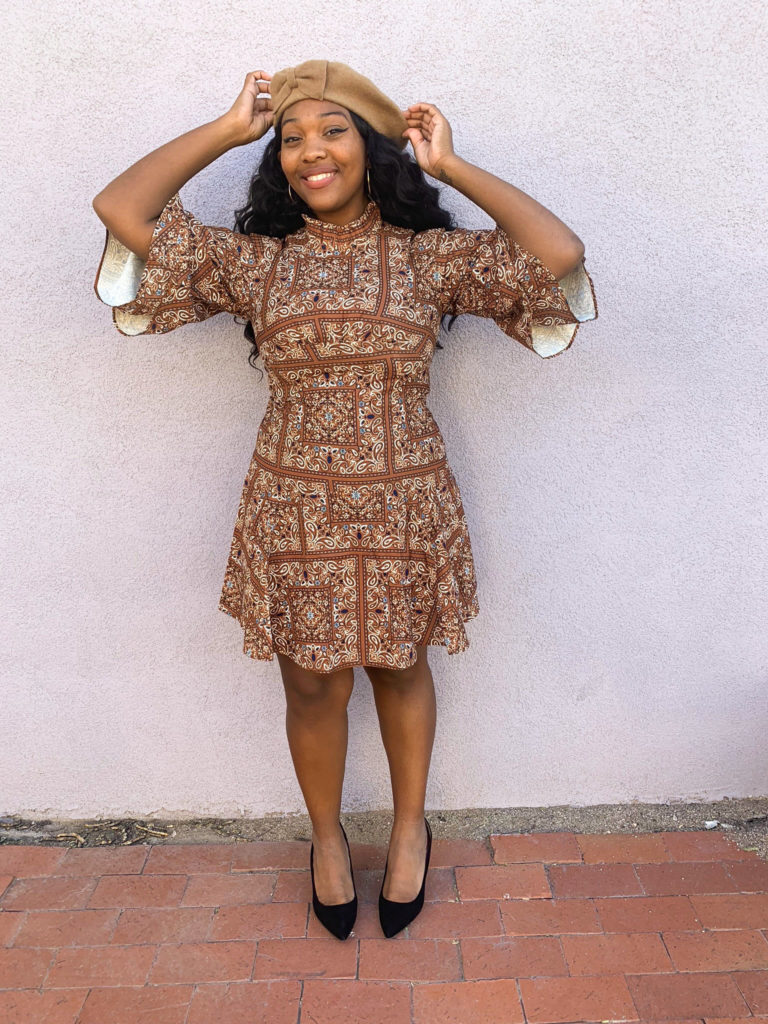 Feeling stuffed with inspiration for Thanksgiving outfits? If I can talk turkey with you, it's time to run down to your local Buffalo Exchange and shop for your look! Whatever event you'll be attending, I can guarantee that they've got just the thing you need. Thanks for reading and have a happy Thanksgiving!