B

log
Fashion – Style – Trends
DIY Holiday Sweaters: Snow Globe Edition

By Savy Kroop, Buffalo Exchange HQ
Looking for the most festive sweater of all to rock this rock this holiday season? Stop into your local Buffalo Exchange for tons of cute and kitschy options. If you're feeling a little crafty, though, try DIY-ing one of your own holiday sweaters. This snow globe sweater is unlike anything you can buy and will surely bring holiday cheer! For added fun, get a group of your friends together and make it into a craft night party.
What You'll Need to DIY Your Snow Globe Holiday Sweaters
To start off, you'll need to find the sweater you want to use as your base. Choose one from your closet that you're no longer wearing or stop by Buffalo Exchange to pick one up – I found this cute gray sweater with pearl detailing at my local Buffalo and all of my crafting supplies at the dollar store. I spent under $20 on this project and only took about 30 minutes to complete! I don't know about you, but I think I'll be DIY-ing my own holiday sweaters from now on.
Supplies:
Sweater
Clear plastic bowl
Plush snowman (or any other festive toy – i.e. reindeer or an elf)
Tinsel
Fake snow
Snowflake stickers
Glitter
Hot glue gun and glue sticks
Scissors
Marker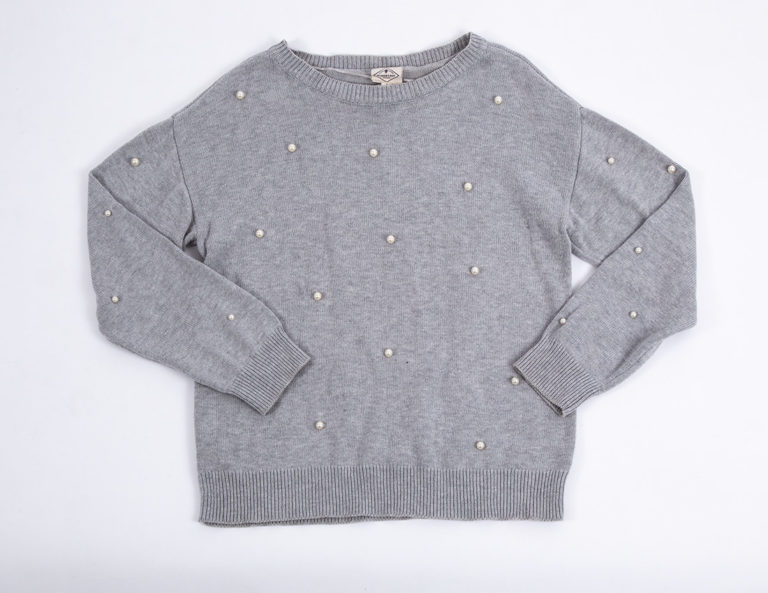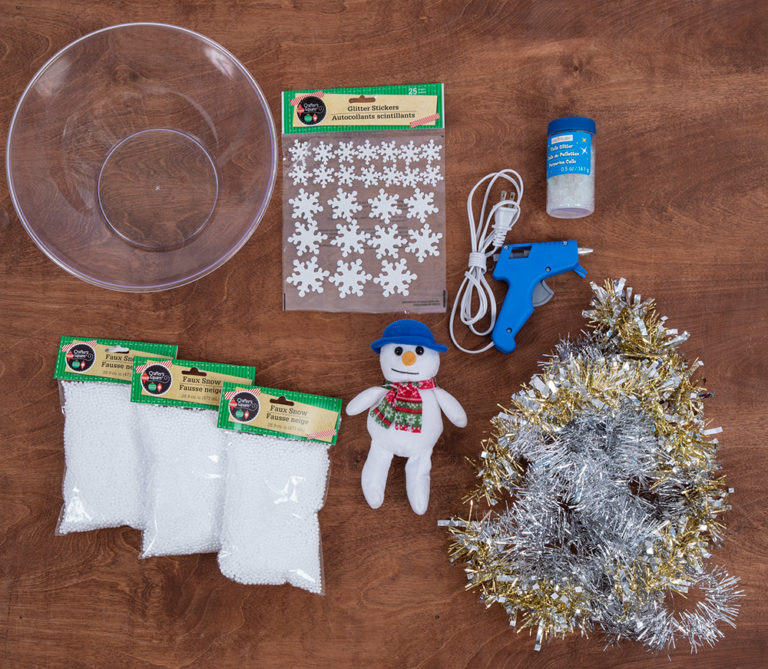 Crafting your DIY Snow Globe Sweater
Step One:
Take your plastic bowl and place it on the sweater where you would like your snow globe to be. Then, take your marker and trace the perimeter of the bowl. Once this is done, you can put the bowl aside and begin to decorate the inside of your snow globe.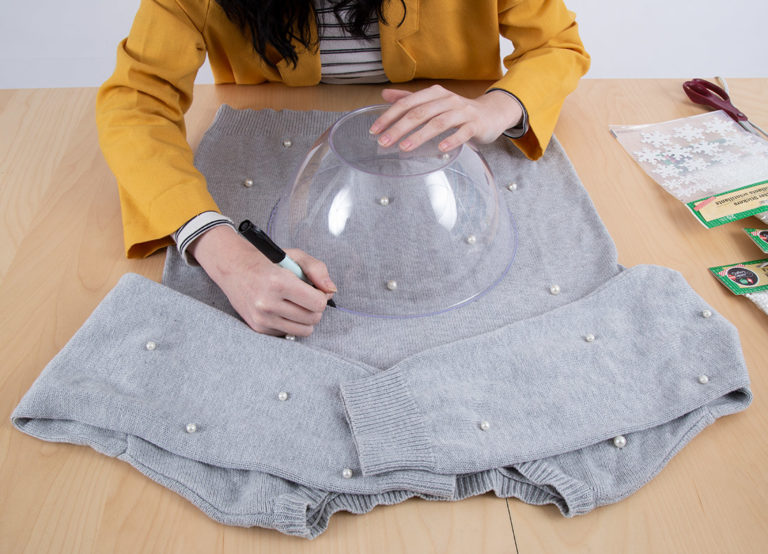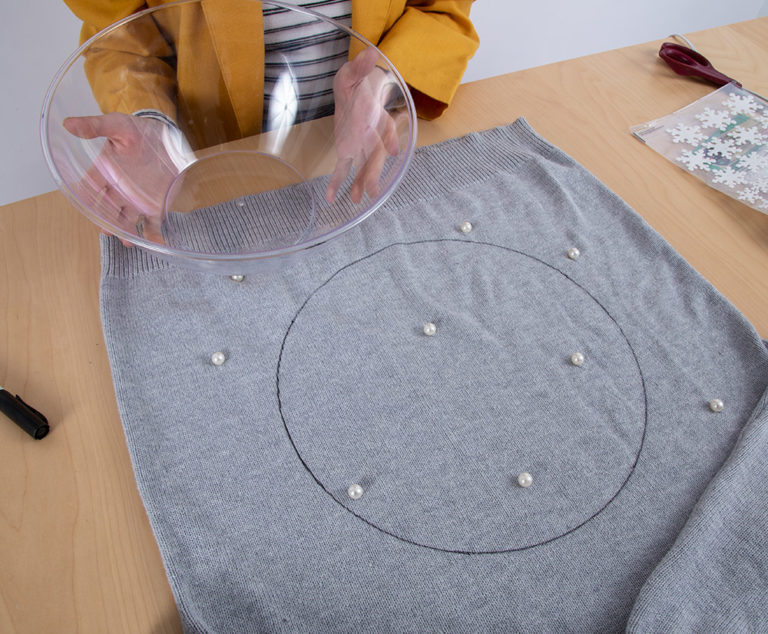 Step Two:
For the inside of my snow globe, I chose a snowman stuffed animal and snowflakes, but you can get creative and use whatever fun and festive supplies you might have lying around.
First, I glued my cute plush in the center of the circle. Then, I placed the snowflake stickers around the snowman and secured them with hot glue.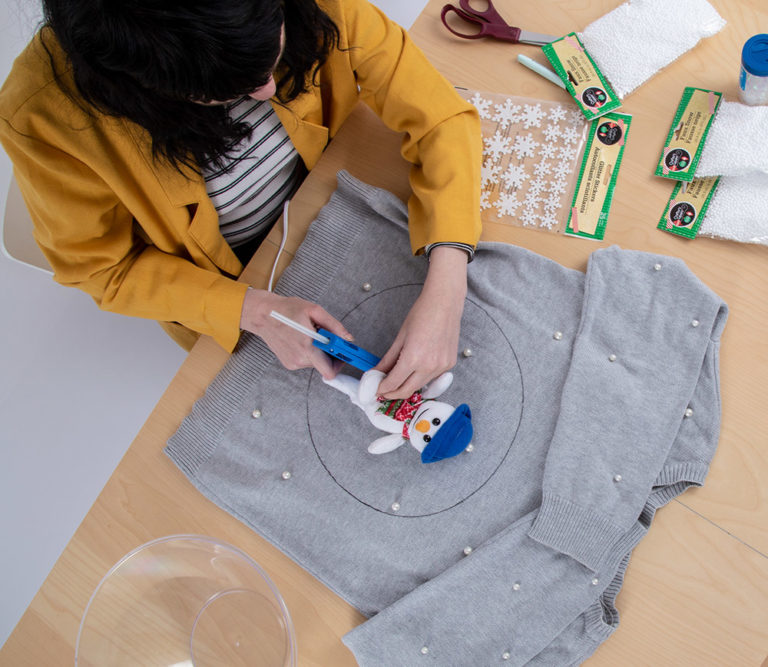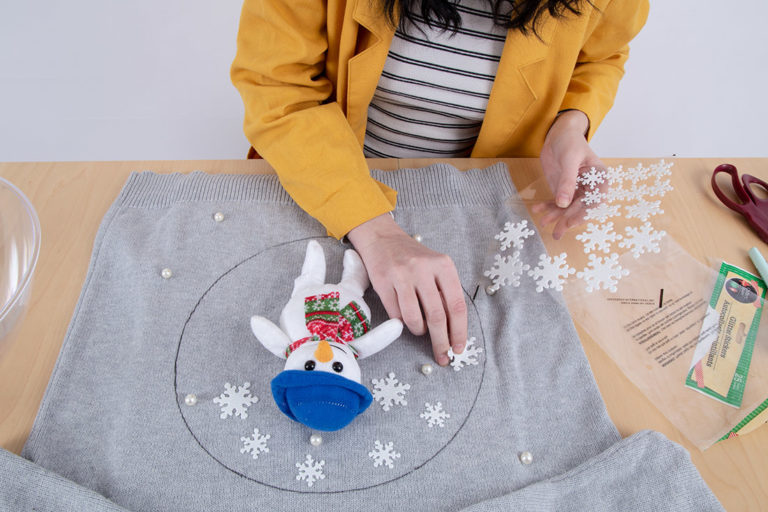 Step Three:
Once you're happy with the inside of your globe, glue down the bottom half of your plastic bowl with a hot glue gun, leaving the top half open.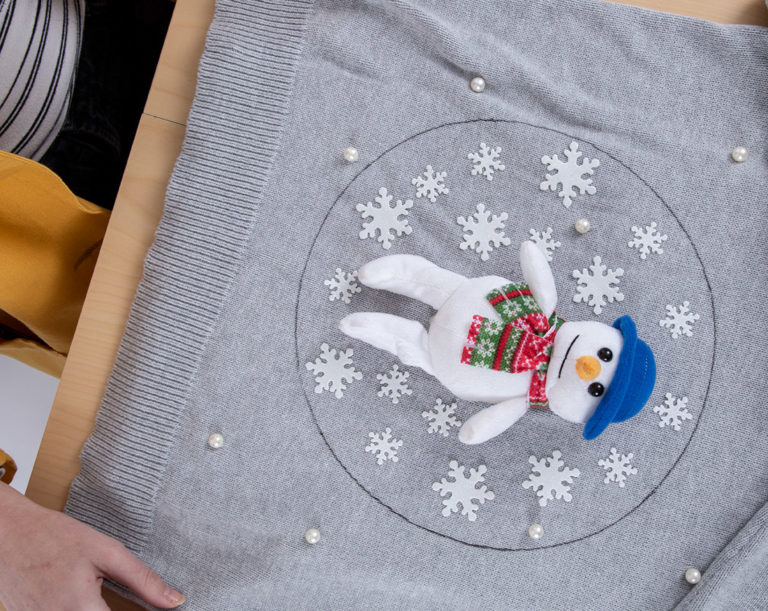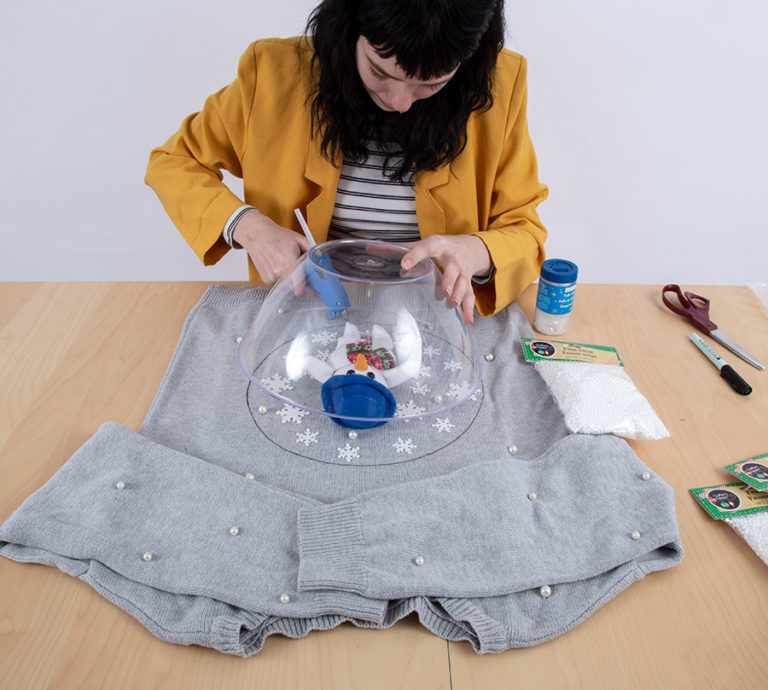 Step Four:
Let it snow! Now, you're going to add your fake snow and glitter to your snow globe.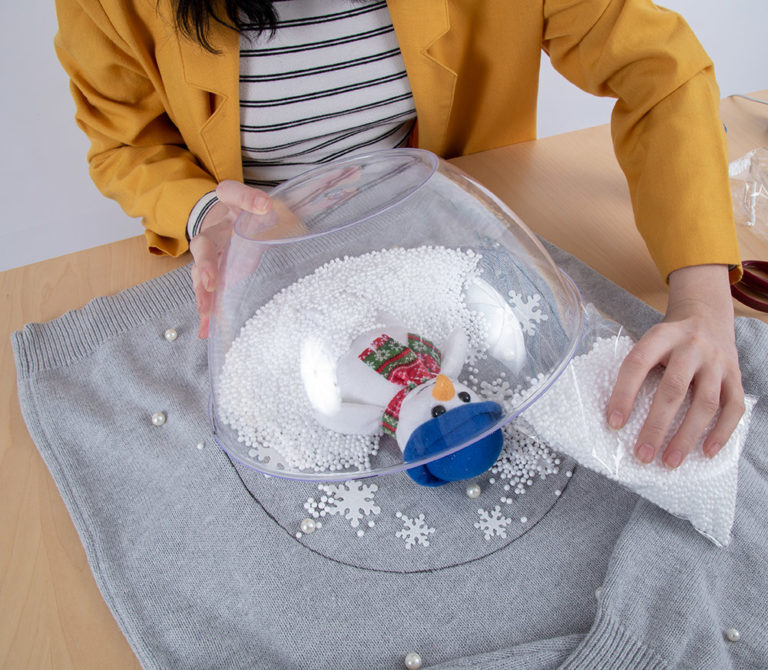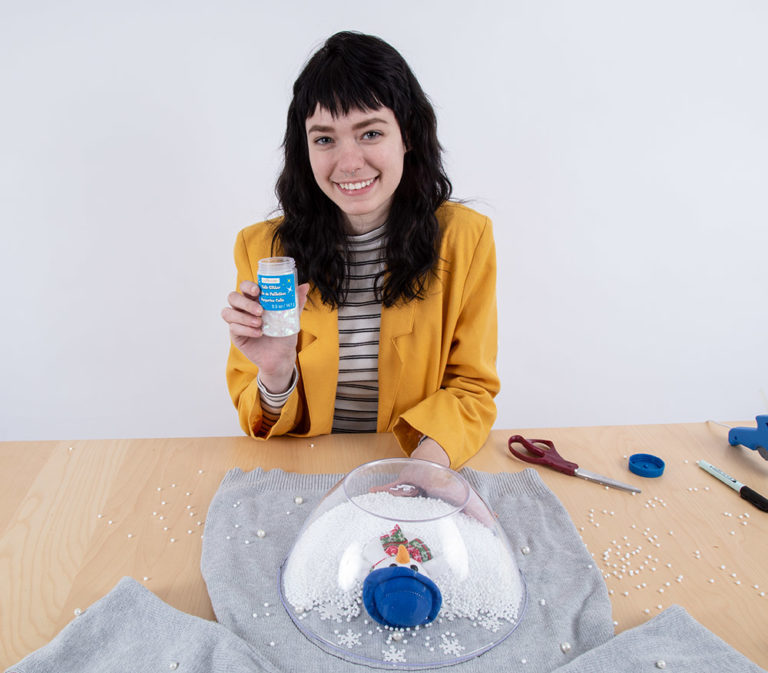 Step Five:
Let it snow! Now, you're going to add your fake snow and glitter to your snow globe.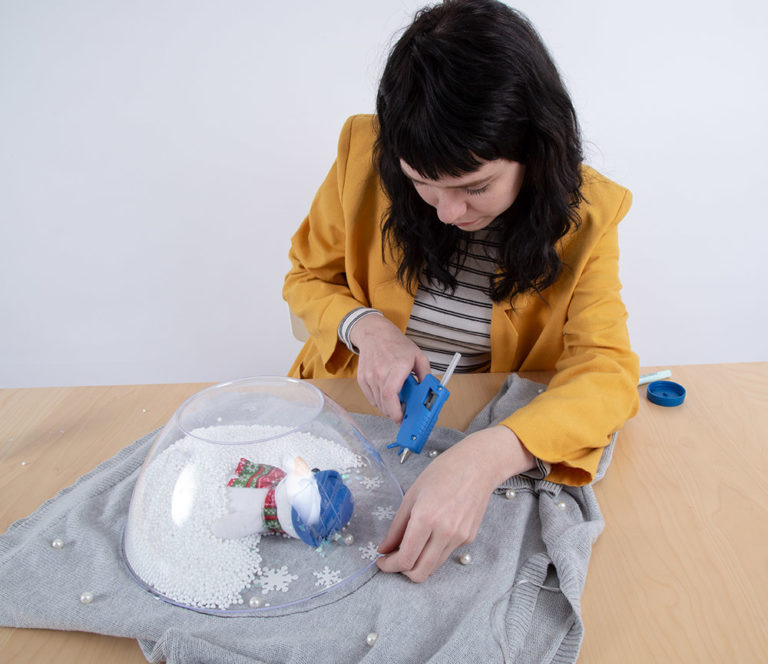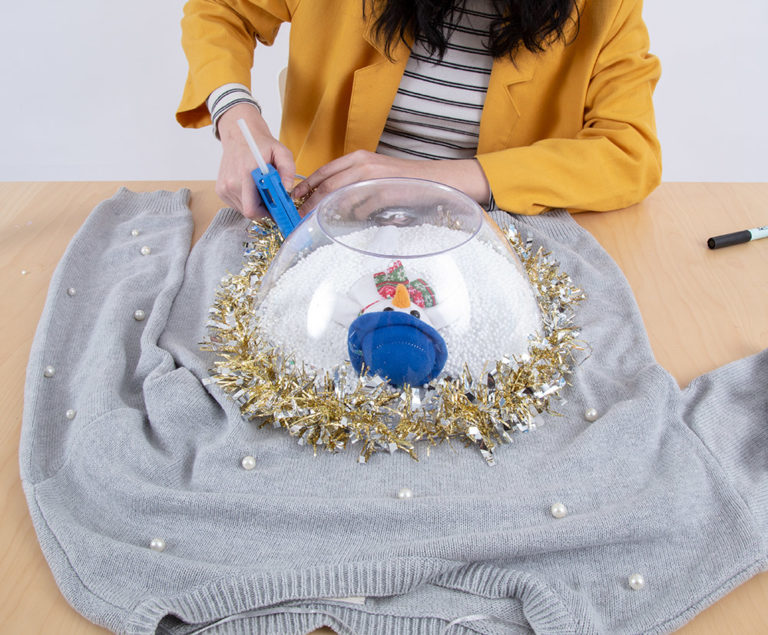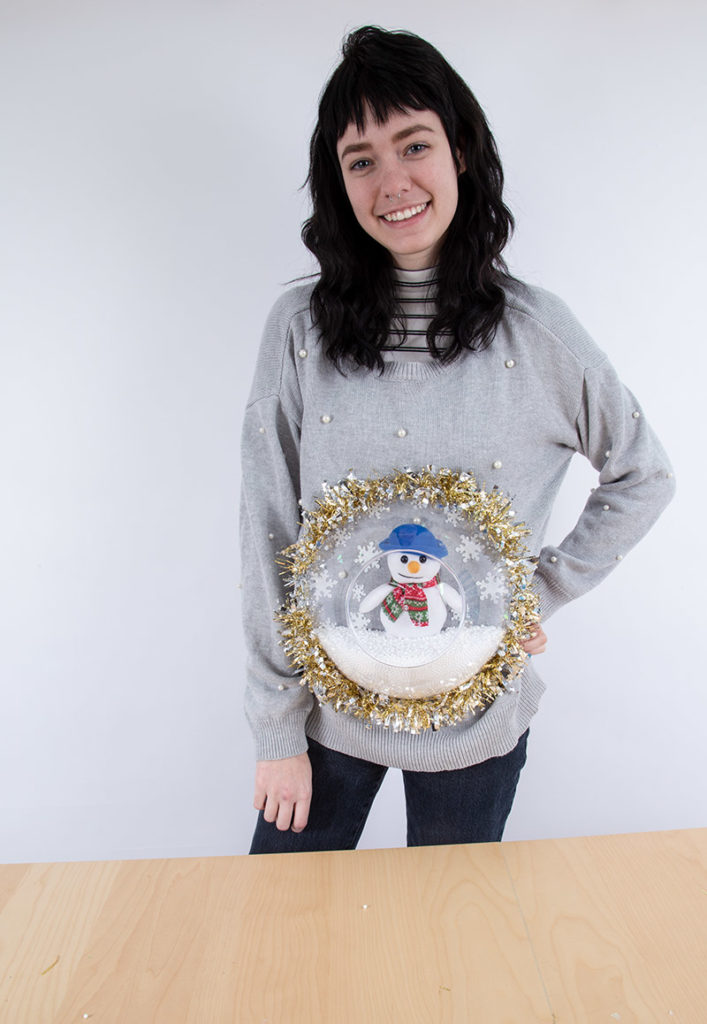 With DIY holiday sweaters like this, you'll be sure to shake things up at your next holiday party! No time to DIY? No worries. Stop by your local Buffalo to pick up one of our pre-made options. Not to mention that you'll have the chance take a peek at our selection of fun stocking stuffers or knock out your holiday shopping with a few Buffalo Exchange gift cards! Now through December 24, you'll receive a tote bag with every $50 gift card purchase. Happy holidays!