B

log
Fashion – Style – Trends
DIY Bag: Turn Your T-Shirt Into a Reusable Tote!

By Savannah Timpani, Buffalo Exchange HQ
At Buffalo Exchange, we're all about recycling our clothing and accessories – whether that means trading in our closet cleanout for cash or store credit or repurposing a T-shirt into a fun DIY bag! For an environmental win-win, take a T-shirt you no longer wear and turn it into a reusable tote bag to carry with you when you go shopping. This is the EASIEST DIY EVER, so why not make one this weekend? You can bring it to our Earth Day $1 Day Sale on Saturday, April 21 to carry home all your $1 finds!
What You'll Need for Your DIY Bag
To make your DIY bag, all you'll need is a tee of your choosing and some scissors. Did we mention this is the easiest DIY ever?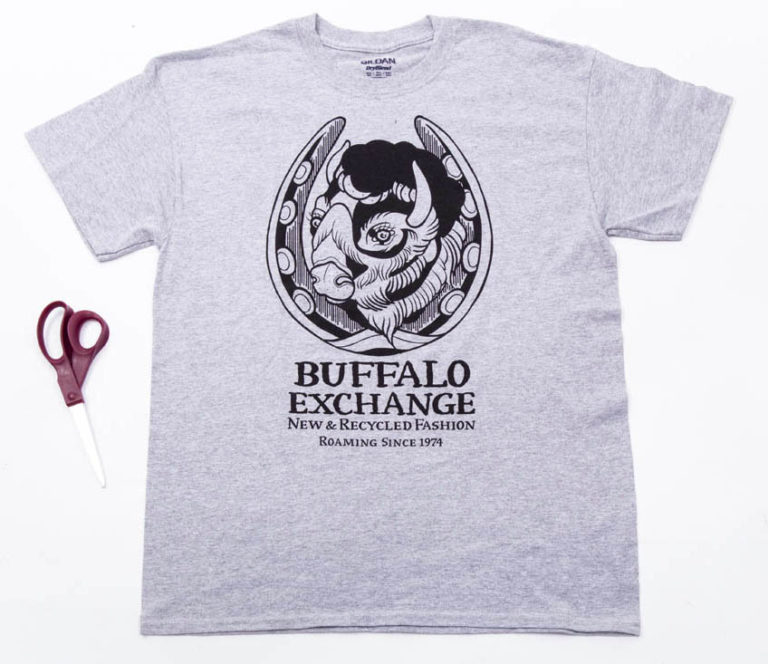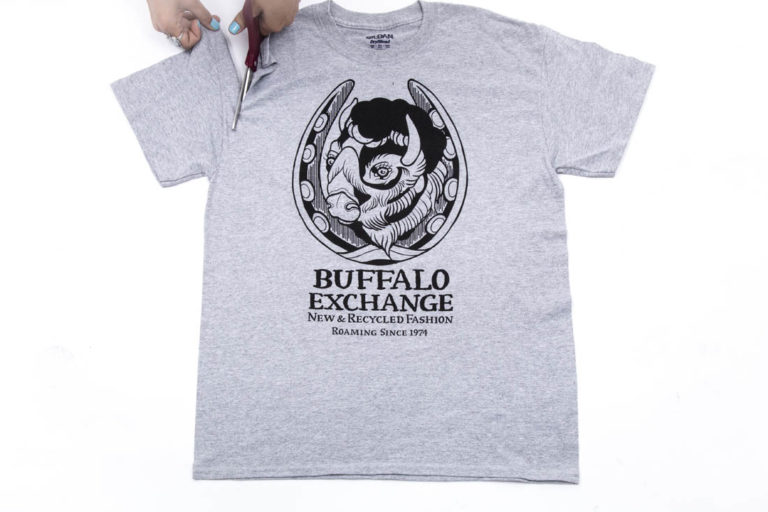 Step 1: Snip, Snip
Once you have your tee and scissors, you're ready to get snipping! Start by cutting off the sleeves, including the seam, on each side.
Next, cut off the neckline, including the seam. Keep in mind that, the lower you cut, the deeper the opening of your bag will be.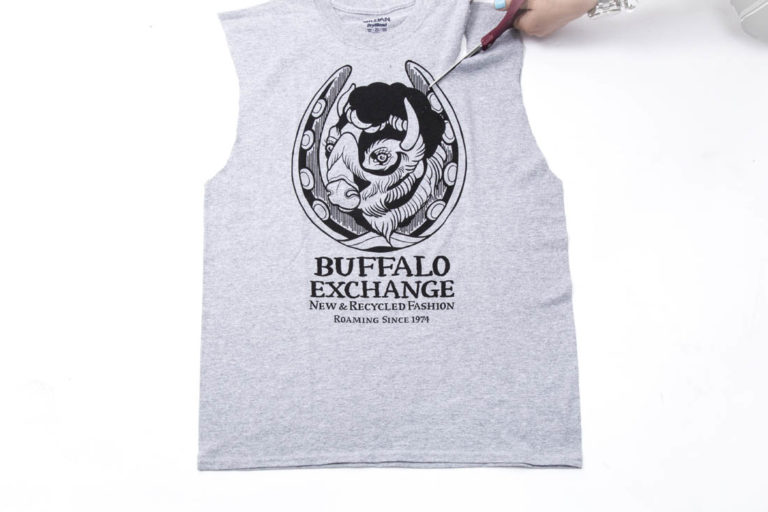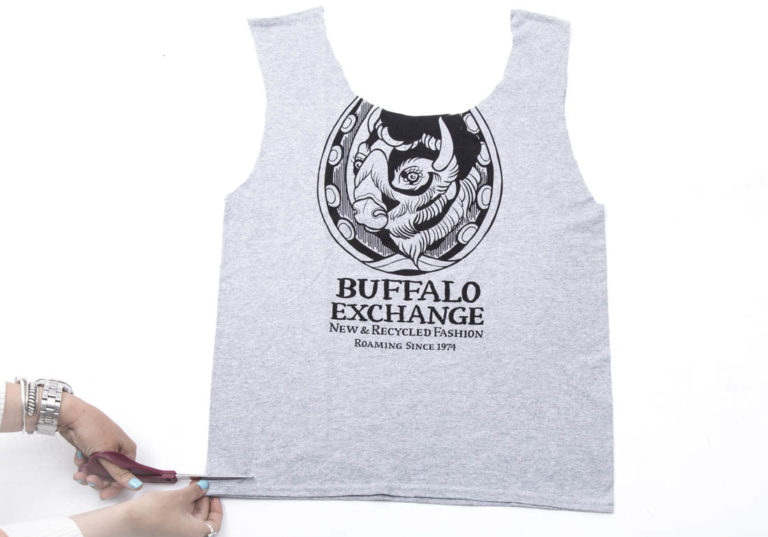 Step 2: Fringe It Out
Now that you have what looks like a rad tank, cut the bottom of the shirt horizontally along the seam.
Next, cut some slits vertically about 2-3 inches long and 1-2 inches apart all along the bottom. When you're done, it should look like a fringey tank.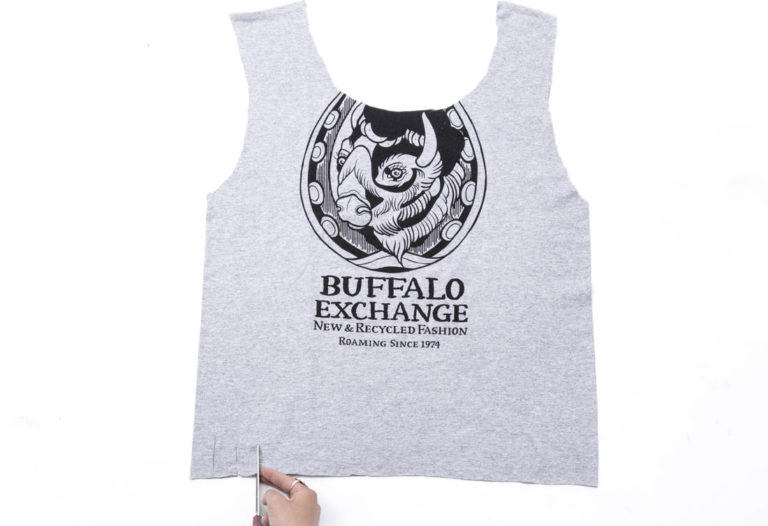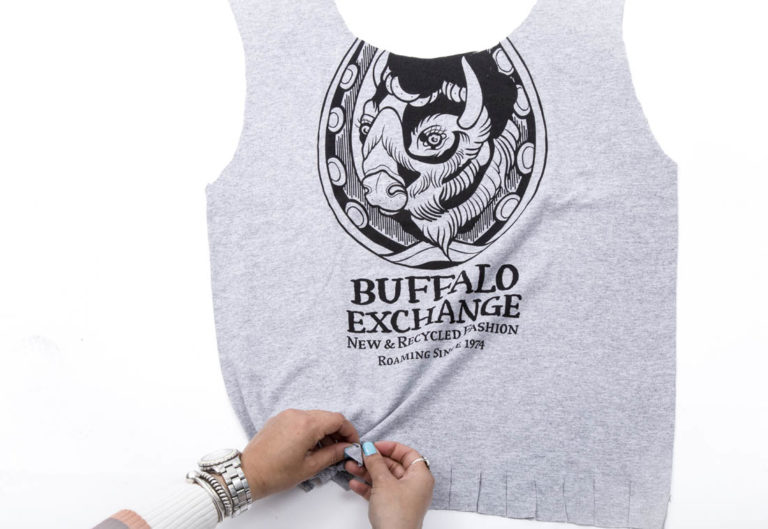 Step 3: Tie It Up
Onto the last step! Tie each piece of fringe with a double overhand knot and VOILA, the perfect tote bag! Extra style points for adding your favorite pins or patches.
In case you didn't know, Buffalo Exchange is a bagless company. This means that, instead of handing out plastic bags, we hand out charity tokens with each purchase. Fun fact: we've donated over $728,595 to thousands of local non-profits and kept over 14.5 million plastic bags from polluting the environment since starting our Tokens for Bags program in 1994. So next time you stop in to shop at your local Buffalo, bring your reusable DIY bag!