B

log
Fashion – Style – Trends
Shop for a Big Cause at the Earth Day $1 Sale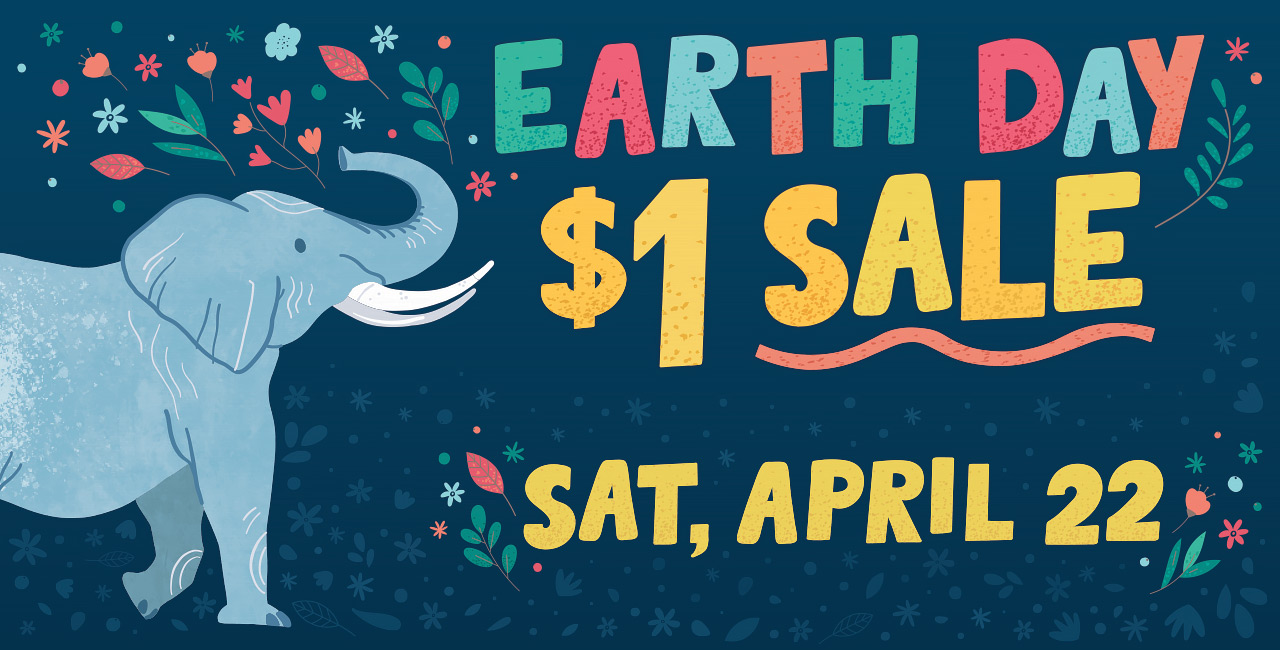 Have you herd? Our Earth Day $1 Sale is back and, this year, all proceeds will benefit our friends at The Elephant Sanctuary in Tennessee! On April 22nd, all Buffalo Exchange locations (excluding the outlets) will have a special selection of clothing and accessories priced at just $1 apiece. Each dollar you spend won't just get you a new top or pair of jeans, it'll also help provide a safe and natural environment for elephants that have been rescued from captivity. Keep reading to learn more about the amazing nonprofit organization we've partnered with this year!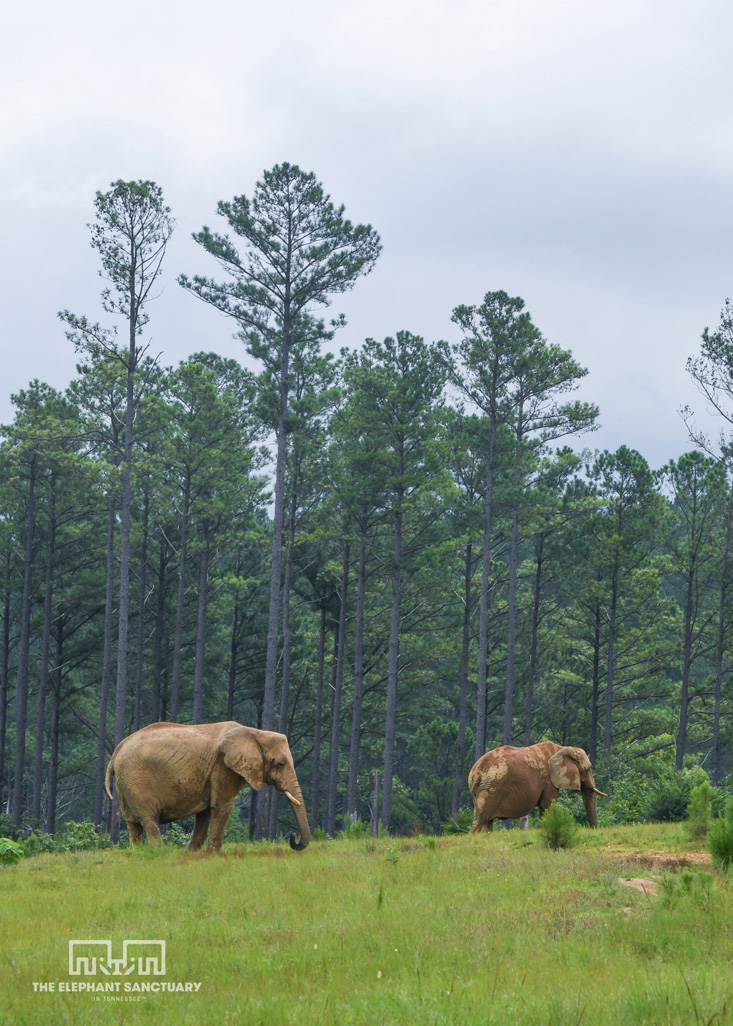 About The Elephant Sanctuary
Located in the hills of Tennessee, The Elephant Sanctuary is the largest natural habitat for elephants in the United States, offering a safe haven for those retired from zoos, circuses and other forms of captivity. For over 25 years, this amazing organization has given these gentle giants both home and herd, providing them with top-notch care from a team of dedicated elephant experts.
The Sanctuary's mammoth-sized 3,060 acre property is divided into several different habitats, designed to mimic the natural environments the elephants would encounter in the wild. There are spring-fed lakes, pastures, woodlands and plenty of space for these playful pachyderms to roam freely and socialize with each other. Known for their emotional intelligence and intricate family structures, it's important for elephants to be able to form bonds and new relationships and The Sanctuary provides the perfect place for them to do just that!
Supersized Streaming
As a true refuge, The Elephant Sanctuary in Tennessee is closed to the public. Instead, you can visit the elephants through the EleCam, a live video stream where you can watch them living their best lives at The Sanctuary. While the camera may add 10 pounds, the average elephant weighs 11 tons — so you shouldn't notice!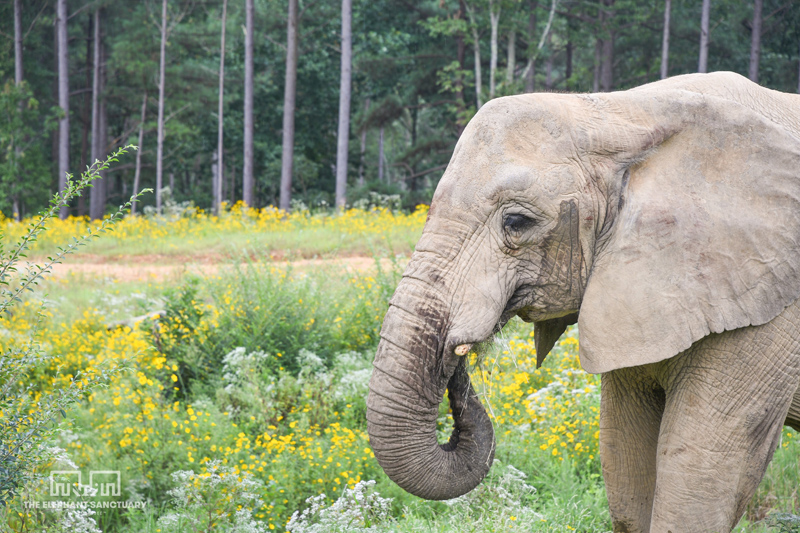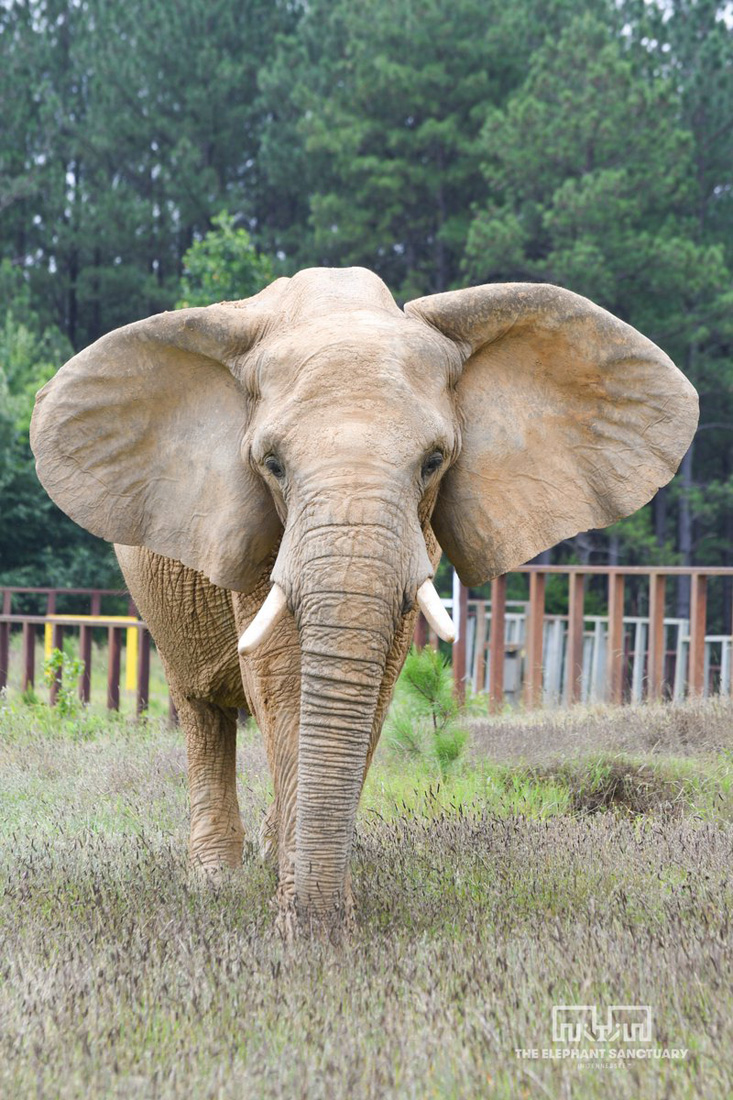 Tange the African Elephant is recognizable by her very round-shaped ears.
Ele-Fun Facts:
THEY NEVER FORGET:

The elephant's temporal lobe is larger and denser than a human's — which is what makes their memory span unmatched!
THEY LOVE TO VEG OUT:

Elephants are the largest herbivores in the world, consuming approximately 150 pounds of food per day. They eat so much that they can spend up to three quarters of their day just eating! Let's just say we're jealous.
THEY NEVER SKIP TRUNK DAY AT THE GYM:

Elephant trunks contain some of the most sensitive tissue ever studied, with around 40,000 muscles just in their trunk. (A human has about 600 muscles in their entire body!)
THEY CAN FEEL THE VIBE:

We all know the sound of an elephant's trumpet, but these majestic creatures communicate in a variety of ways including seismic signals, which they detect through their feet.
THEIR TUSKS ARE ACTUALLY TEETH:

Elephant tusks are enlarged teeth that they use as tools for everything from digging up a quick snack to self defense. Unfortunately, their tusks are often what puts them in danger, as the ivory they're made of is highly desirable.
THE ELEPHANT IN THE ROOM:

Around 80% of the world's African elephants and an estimated 50% of the world's Asian elephants have been wiped out in the past century — largely due to the ivory trade. Education is an important part of The Elephant Sanctuary's mission, providing the public with educational programs and resources to raise awareness about the crisis facing elephants in the wild.
How to Help
If you're interested in learning more about The Elephant Sanctuary, there are plenty of ways to get involved. You can make a donation to help support the elephants, volunteer your time, or even adopt an elephant and receive updates on their progress.
Our favorite way to show you care? Shopping at the Buffalo Exchange Earth Day $1 Sale of course! Join us on Saturday, April 22nd at any of our Buffalo locations (excluding outlets) to shop a special selection of clothes, shoes, and accessories for just $1 each! 100% of the proceeds will go to The Elephant Sanctuary in Tennessee, so you can save big while supporting The Sanctuary's incredible mission!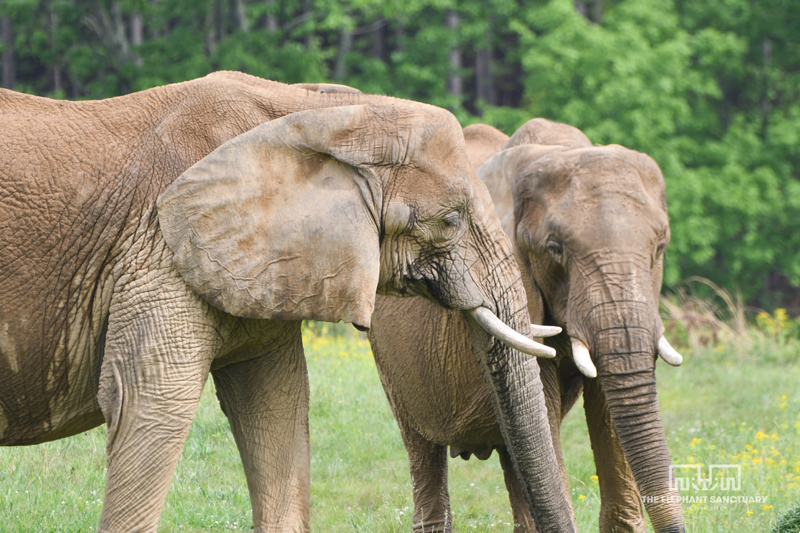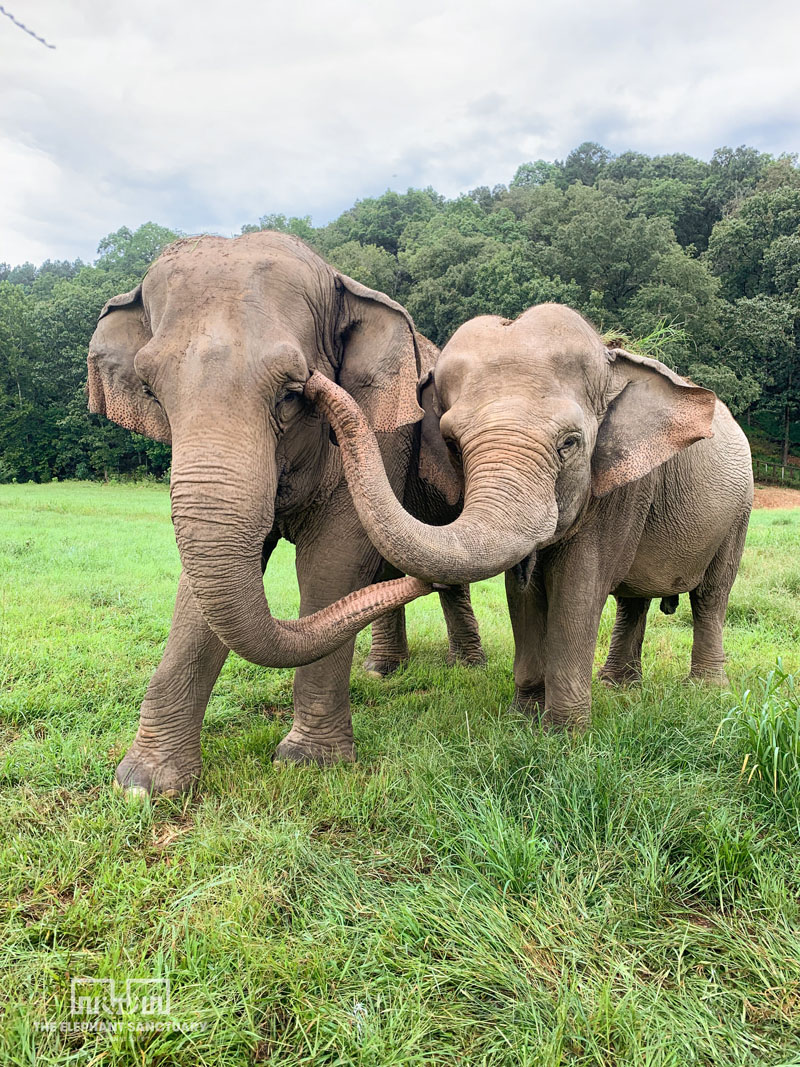 Asian Elephants Debbie and Ronnie using their trunks to check in with each other through touch and scent.
Don't Forget!
We've talked your ear off for long enough, here's everything you need to know if you plan to visit the $1 Sale:
PLAN TO ARRIVE EARLY: The sale starts at normal store opening hours, but customers tend to line up around the store early. We recommend arriving ahead of time for the best selection and to ensure you don't miss out.
BEFORE YOU GO, STOP BY THE ATM: The $1 Sale is CASH ONLY, so make sure to stop by the ATM before you arrive.
DRESS COMFORTABLY: Dressing rooms won't be available for the $1 Sale, so make sure to wear an outfit you'll be able to try clothes on over.
BRING A (REUSABLE) BAG: Chances are you'll find a trunkful of thrift treasures, so plan ahead by bringing your favorite reusable tote. Or you can buy a Buffalo Exchange tote bag made from 70% recycled plastic as a sustainable souvenir!