B

log
Fashion – Style – Trends
Nathanael Gregory Myers Receives Buffalo Exchange Arts Award

By Danielle Hargett, Buffalo Exchange HQ
"Art is not something that humans do when they have nothing else to do. Art is an essential part of the human condition. It happens everywhere and in all circumstances." – Spencer Block, Co-founder of Buffalo Exchange
Every year, the Buffalo Exchange Arts Award honors an emerging artist in Southern Arizona with $10,000 so that they can continue doing great work for the local community. This year, the award went to Nathanael Gregory Myers. On January 24, 2018, family, friends and other local artists gathered at the University of Arizona Poetry Center to celebrate as Nathanael accepted the award. Luckily for everyone in attendance, he also offered up a very cool performance!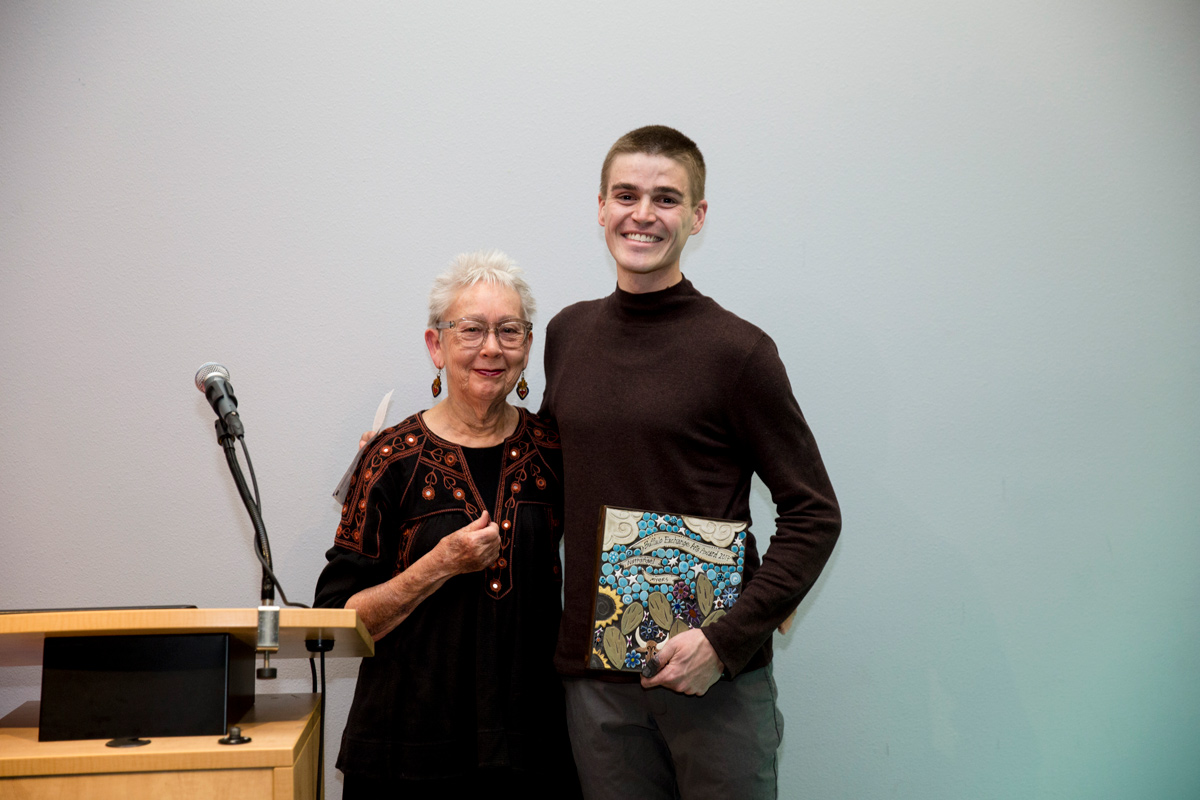 Nathanael Myers accepting the 2017 Buffalo Exchange Arts Award from Kerstin Block, Founder of Buffalo Exchange
History of the Arts Award
Here at Buffalo Exchange, we believe art is essential to the well-being of the community. That's why we've been teaming up with the Community Foundation for Southern Arizona to support local artists with this award since 1994. "Artists are the visionaries," wrote Spencer Block. "They go where no one has gone and show us the way. They can make us uncomfortable. But artists are essential to the well-being of our society." Over the years, Buffalo Exchange has awarded over 200,000 to Southern Arizona artists.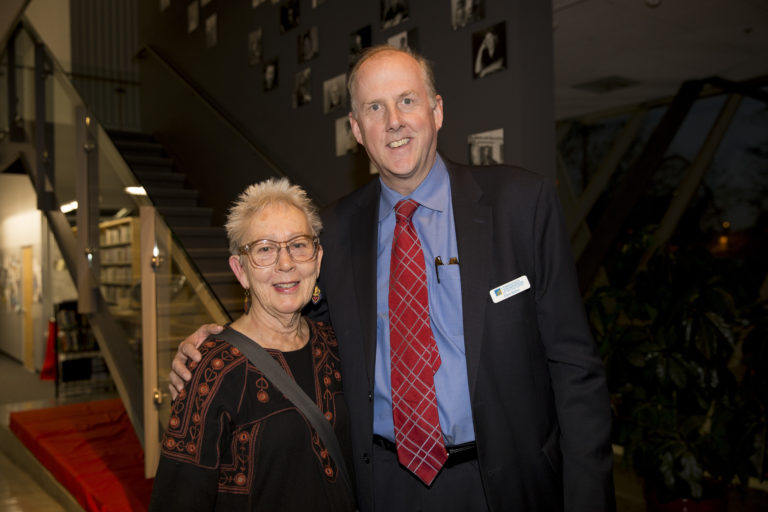 Buffalo Exchange Founder Kerstin Block with Community Foundation for Southern Arizona President Clint Mabie
An Artist About Town
A native Arizonan, Nathanael has woven himself into the local Tucson arts scene in many ways – most notably through his work with the Museum of Contemporary Art and through performances at Artifact Dance Project and The Rogue Theatre. If you live in Tucson or have plans to visit, keep an eye out. Nathanael has paintings featured all throughout the city – from coffee shops like Cartel Coffee Lab to various buildings on the University of Arizona campus.
Showing Heart through Performing Arts
To showcase his unique approach to the performing arts, Nathanael treated the Arts Award audience of 65 to an emotional performance entitled Triangulation. The interpretive dance spoke to his skill in uniting poetry with movement. A painter, dancer and musician, Nathanael works to combine romanticism, biology and elements of nature as he explores the mediums of visual and performing arts.
Nathanael Myers performing Triangulation