B

log
Fashion – Style – Trends
How to Clean Out Your Closet Like a Professional In 4 Easy Steps
"Out with the old, in with the new" is an age-old approach to welcoming the New Year and it applies perfectly to tackling the challenge of cleaning out an unruly closet. If your wardrobe is in need of decluttering and a fresh start, read ahead for our tips on how to clean out, make the most of your space and rediscover your style in the process. When you're done, take the pieces you're no longer wearing to a resale store like Buffalo Exchange – you can turn your cleanout into cash or trade to spend on a wardrobe refresh.
Blank Space = Blank Slate! Clear Out Your Closet to Know What You're Working With
Start with taking everything out of your closet. "Everything, really?" you might ask yourself. Yes, everything! Aside from the feeling of relief that comes with a completely blank slate, clearing all articles of clothing, shoes and accessories from your closet gives you an unobstructed view of what you have, including favorite items, forgotten pieces and things that have definitely overstayed their welcome. Plus, with a completely emptied closet (and your clothes now on full display), you'll be extra motivated to cut through the clutter ASAP and reorganize your closet to your liking.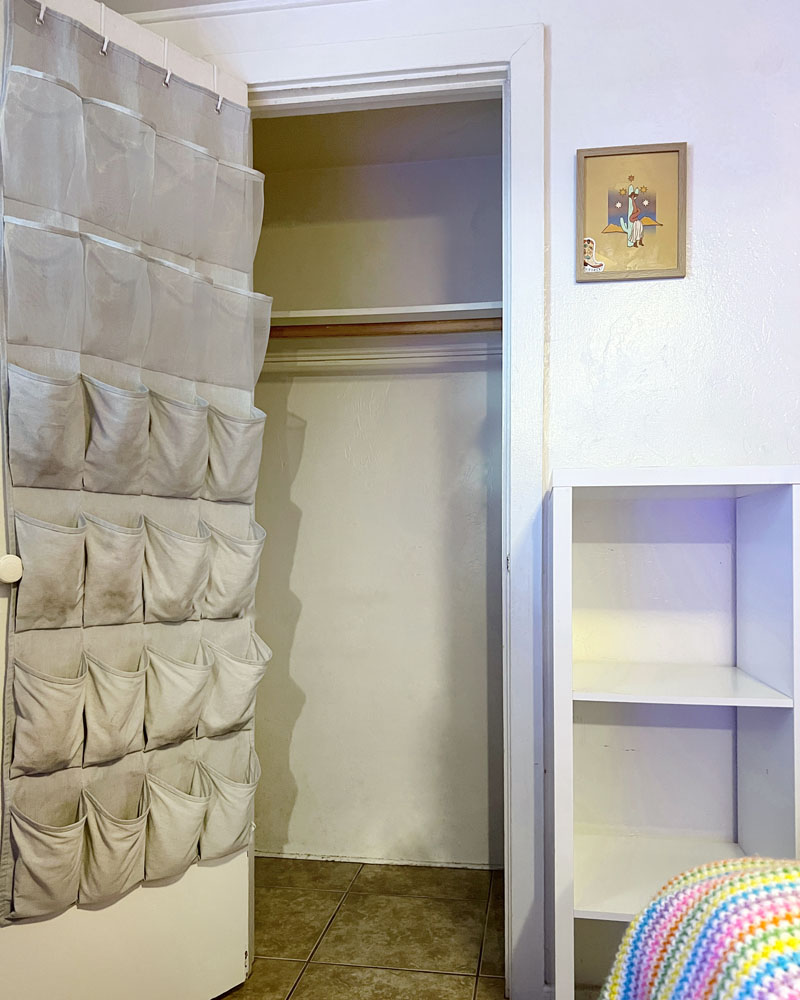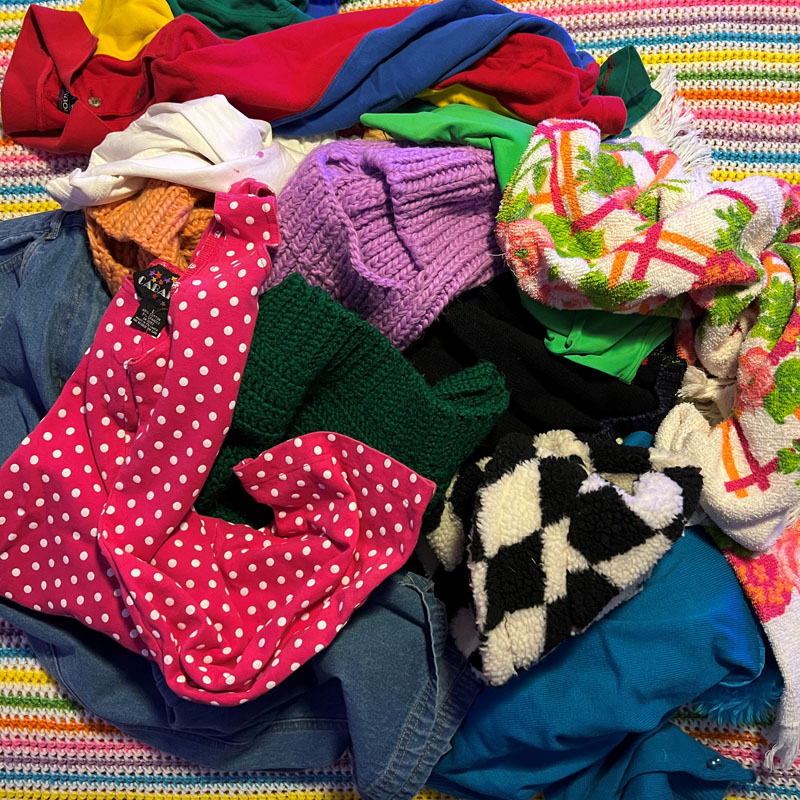 Should It Stay or Should It Go? How to Decide What to Keep When Cleaning Out Your Closet 
After clearing your closet comes the most difficult part: figuring out what will make the final cut and what's headed for the door. Here are some questions to ask yourself when deciding what to toss and what to hold on to. 
Have I worn this item recently? Will I wear this item again?

Is it comfortable and do I feel my best while wearing it?

Does it have a practical purpose (like "wash-day" t-shirts or not-the-most-stylish-but-oh-so-comfortable running sneakers?) 

Is it in good condition? If not, can I mend or wash it? And more importantly, will I?

Do I have multiples of this item or a similar style? 
These questions are meant to help guide, not decide: if you totally love (and regularly wear) two or three identical pairs of jeans, by all means, keep them! You don't need to take a scorched-earth approach to rebuilding your wardrobe, and nothing is more sustainable than wearing what's already in your closet or, if you're handy, upcycling it into something new.
Reduce, Reuse, Reorganize!
Before you start loading your keep pile back into the closet, keep in mind these general tips for making the most out of your closet space and storing your clothes sustainably.
Keep your favorite, most-worn pieces front and center: it'll make getting ready in the morning faster and helps minimize wear and tear to specialty pieces from continued tugging and shuffling through your closet.

Fold knits to prevent accidental stretching or holes caused by hangers. 

Hang leather, silk, or other delicate materials to protect them from developing deep-set wrinkles. 

Stack T-shirts and undergarments to keep them sorted and save space — this can be accomplished with a traditional dresser or a cube organizer.

Consider a shoe organizer to keep your pairs straight (and discourage you from overbuying more new pairs than you need or have space for!)

Make the most out of any available wall space and hang hooks, racks or wire baskets to store lightweight items like jewelry, sunglasses, hats or scarves.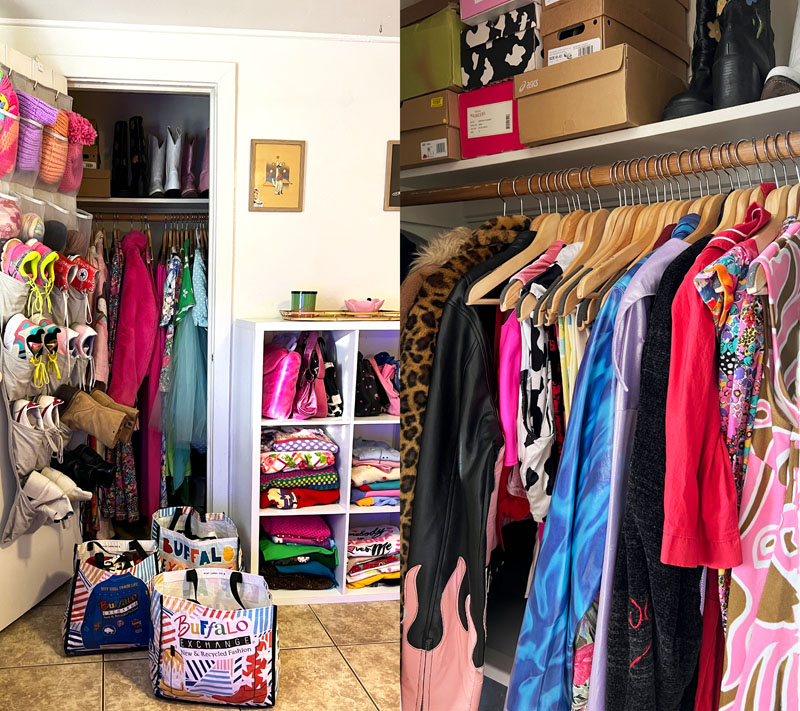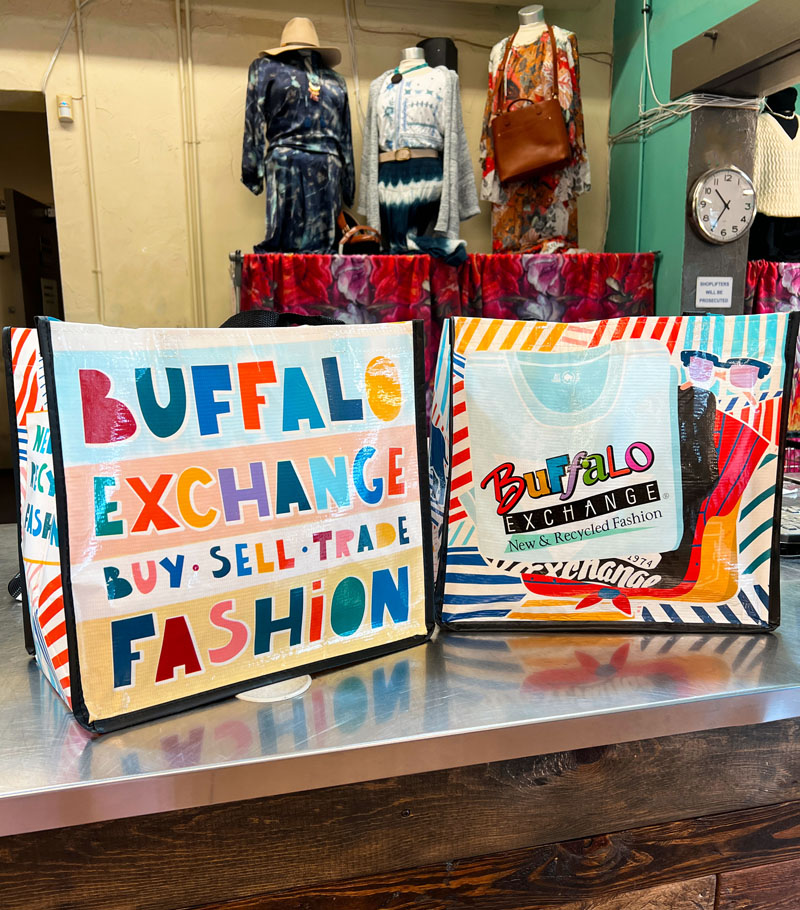 Going, Going, Gone! What to Do With Unwanted Items After Your Closet Cleanout 
Now that you've finally determined what will stay and what will go, the time has arrived to part with the excess once and for all. Donating is the quickest way to offload your unwanted clothes, shoes and accessories, but beware: you could be tossing money out the door! Before you donate, we recommend selling at a resale shop like Buffalo Exchange. Buffalo buys the best of all seasons, and your closet cleanout could turn into extra cash in your wallet or store credit that never expires and can be used at any Buffalo Exchange location. And just like that – easy peasy closet cleany. Happy cleaning, organizing and selling!